​
TL;DR
📅 Some updates and reflections from the past month
🔥NEW: Notion Hot Seats for Startups
⚙️Yak Shaving & Meta Work
---
What's been happening
It would seem that September flew by at warp speed. I turned 38 and ate a giant box of fancy cupcakes, because food is how I celebrate! 🎉🍰
The days are already getting darker and shorter, and I'm now decked out in my warm sweaters, wooly pants, and oversized scarf. I'm not quite ready to embrace the change of seasons yet...
​
Some things that happened this past month:
A guest training for Shawn Blanc's The Focus Course on using Themes and Goals together to help you get the right things done.
It was fun to look back through some of my old trainings and look at how my approach to Goal setting has evolved over the years, from paper and post-its, to big print-outs, and eventually to Notion:
A common trait of ADHD is "out of sight, out of mind," and over the years I've learned that I very much need to see information (especially things like Goals and commitments) in a visually pleasing way.
Things often don't feel right until I see them in a way that "clicks" in my brain. It's hard to describe, and might sometimes seem superficial or even superfluous to outsiders looking in, but I've learned just how extremely visual my brain is (it's why I fell so hard for Notion!).
I know I'm much more likely to use my tools well if they feel good, and often that means they are beautifully designed.
Yes, I'm willing to pay $75 for a beautifully designed calendar app, even though other tools have the same functionality.
Is it because I'm a designer... or am I a designer because I am a visual thinker?
Is this related to ADHD, or this just how my brain works?
I don't know, but I'm enjoying the process of learning more about the ADHD brain.
​
Other things that happened this month:
Our first Notion Hot Seats for startups kicked off on Sep 24th (more on these below!)
I did a super fun livestream with Jason Lengstorf on Team Workflows in Notion: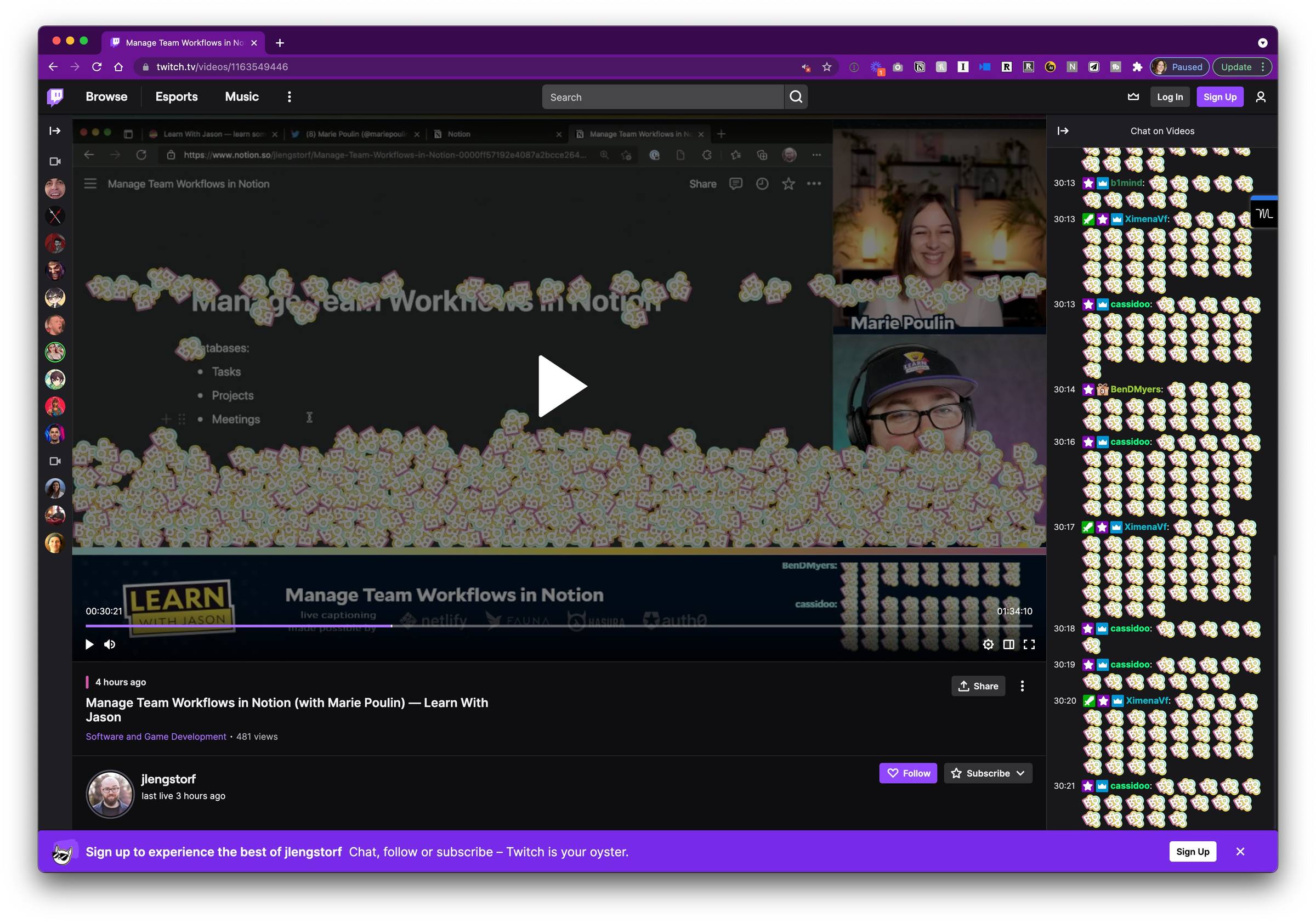 ​
Otherwise, the majority of my days have been spent updating the Notion Mastery curriculum and lessons to reflect the Horizons system I've been using consistently since January: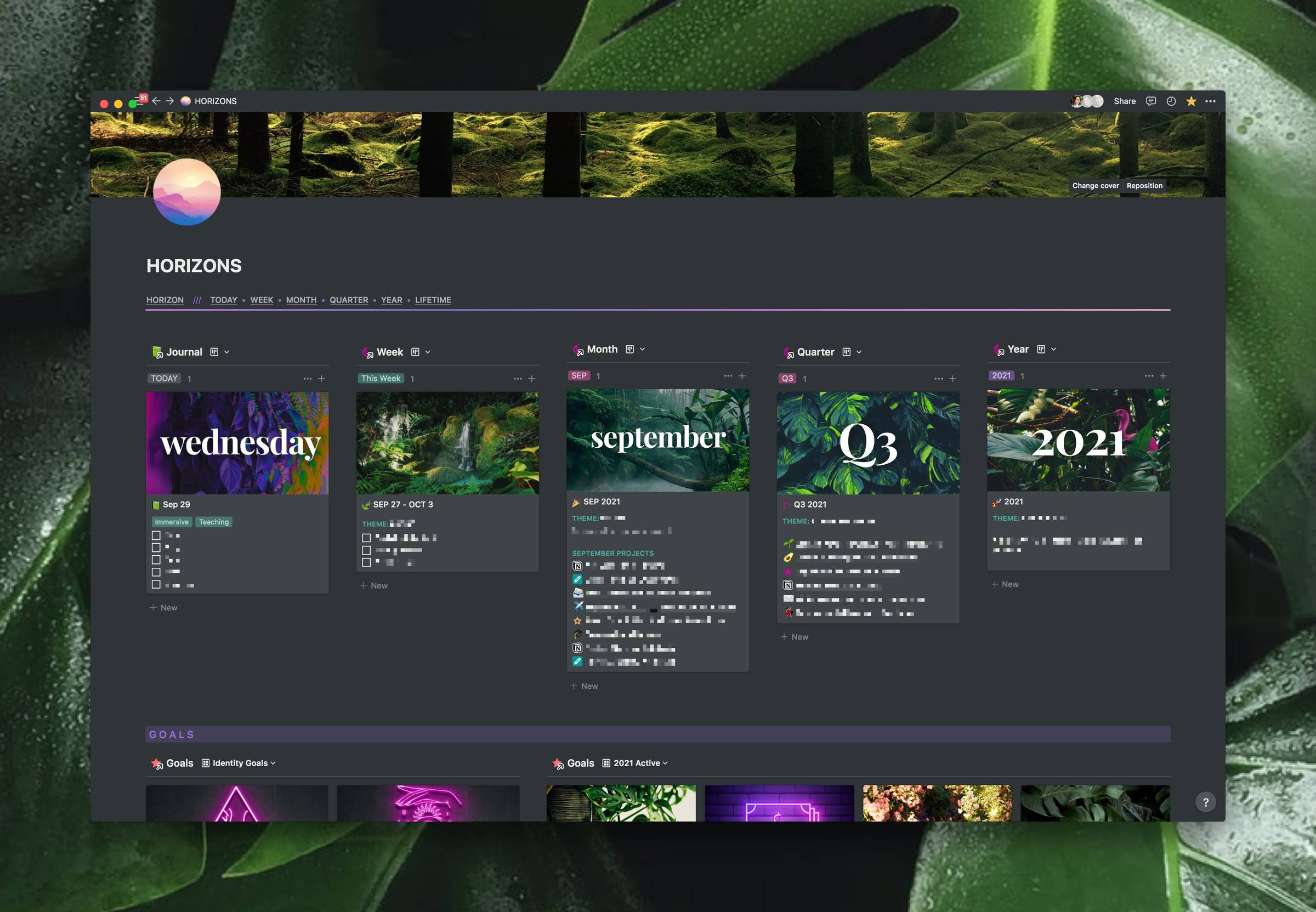 It's a super practical personal system that allows you to integrate work and life into one time-based set of nested dashboards. View your actions, themes, goals, and intentions at any timescale: daily, weeky, monthly, quarterly, yearly, and even lifetime.
If you're curious to see more, I will be creating some new YouTube videos to share this system once the new curriculum is complete (later this month)!
---
What's coming up
In some rather exciting news, my husband is officially coming back to the company after two years of working full-time elsewhere! It's a fun and exciting change for us, and we have plans for more Notion-related training and events, including...
Notion Hot Seats for startup teams
We're partnering with Notion to bring back a new style of office hours called Hot Seats. Join me, Owais Khan (Notion), and my partner Ben Borowski as we co-workshop live spaces in real time in order to help teams improve their workspaces.
It's essentially like watching a live consulting session with a couple of Notion Pros (who also just happen to be married).
These sessions are live, casual, and unscripted. You can watch us working out solutions and building in real-time. If you can't make it live, you can catch the recording later.
Next sessions: ​
October 6th, 11am PT
October 20th, 11m PT
November 3rd, 11am PT
​> Register here​
​
---
Interesting Conversations:
Neurodiversity + productivity advice
Last week one my fave humans, Khe Maridh, asked on twitter:
​What's something that you're trying to unlearn?
Having only recently been diagnosed with ADHD back in July, I have really appreciated Jesse J Anderson's Twitter account this year.
Here's what Jesse had to say about unlearning neurotypical productivity advice:
Jesse J. Anderson • ADHD Creative

@jessejanderson
September 30th 2021
​
"So much of being productive with ADHD is about energy management. If I don't have energy, I'm not going to get anything done. If I have so much work to do I don't know where to start, I will freeze and sit on the couch doing nothing."
"I have to instead build up my motivation by giving my brain the things that are interesting and energizing. Captivate, Create, Compete, Complete Find things that are captivating, things that are creative, things that are a fun competition, and things that have deadlines."
"Jim Gaffigan describes having a fourth kid as "imagine you're drowning, and then someone hands you a baby." That's what it's like when your brain is lacking dopamine. Your brain is struggling to survive but you keep giving it more hard work and responsibilities."
​
---
Great Read:
​https://www.jason.af/yak-shaving​
"Meta-work is the work we do before the Real Work™ to make it more efficient and productive... when executed well, meta-work requires an up-front investment, then little (or no) additional effort afterward."
I love the idea of acknowledging the meta work that can seem like a waste of time, but is actually the work that sets you up for freedom later.
​
---
That's all for now; wishing you a wonderful week!
​
Marie Poulin
​Creator, Notion Mastery​