TL;DR
An Issues database is a delightful addition for remote teams
A personal update: Officially diagnosed with #ADHD
---
This week we're talking about your Issues.
Issues is a new database that has become a critical part of our day-to-day workflow at Oki Doki.
While we are a tiny team (2 full-time employees, plus a handful of part-time contractors), we recently made some changes to our workflows and processes to improve how we work together.
Some of the changes we're experimenting with:
Implementing a 4-day work week
Reducing weekly meetings to monthly
Prioritizing asynchronous communication

Slack for general team chat and notifications
​Marco Polo for more personal connection: thinking out loud, sharing videos of our pets, plants, or vacations, and for chatting through more nuanced decisions or issues.
Notion for more action-orientated communication (new tasks, projects, etc)

An Issues database to track things that need discussion or decision.
A weekly recurring task at the beginning of the week that rounds up unresolved Issues
​
Why we made these changes
We value freedom, flexibility, and autonomy. We both want control over how we spend our time, and when/how we execute our tasks.
​
Georgia (my Ops unicorn) is a very early bird. I'm a night owl.
​
We are both garden/outdoor-loving ladies who like to make the most of a sunny day (or a snowy ski day for Georgia).
YES, of course you can take the day off to go skiing because it's snow day!
I don't care about time sheets or having 9-5 office hours. I only care that the work that matters gets done.
There's no reason why we shouldn't be able to align our best work with our own Sparkle Hours and Chronotypes.
​
I was officially diagnosed with ADHD a few weeks ago, which helps contextualize a lot of my past behaviour and working preferences!
​
I've essentially got an
interest-based nervous system
which further explains why autonomy and flexibility have always been such strong values of mine. Naturally these values are baked into the DNA of our tiny company.
✨
​
Alright, enough about MY issues, let's talk about TEAM Issues.
​Embedded on our Oki Doki dashboard is the Issues database filtered to show all unresolved Issues. This database is only visible to ADMIN-level members of our workspace (aka, Georgia and I).
​
​Our weekly (now monthly) meeting agenda template in Notion also has an embed of the Issues database, filtered to show only unresolved issues.
We embed this and several other databases inside our Meeting agenda which lives inside our Master Task Database (Actions).
Each time we have a meeting, we can quickly address items that need decisions and resolve them quickly on the call, or create new next Actions related to the issue if necessary.
Examples of issues you might want to include:
Discussion with [person], how do you want to reply?

Issues requiring legal considerations around new contracts

Do we want to make [X] a new standard/process?

What updates do we want to make for [Sales Page / Product / Documentation] in order to address [factor]?

Should we outsource [X]?
​
This running list of issues allows us to save items for discussion and batch them, without letting them derail our focus and attention.
​
If something needs to be resolved quickly, Georgia can send me a Marco Polo, or tag me in the issue entry so i'll get a notification, otherwise it will get resolved within the week during my "Process" time block on Monday mornings.
Some Issues involve things outside of our control, or require action from someone outside of our team, so they might receive a status of waiting.
Some items may need to get resolved within the week, while others have more flexibility with decision making.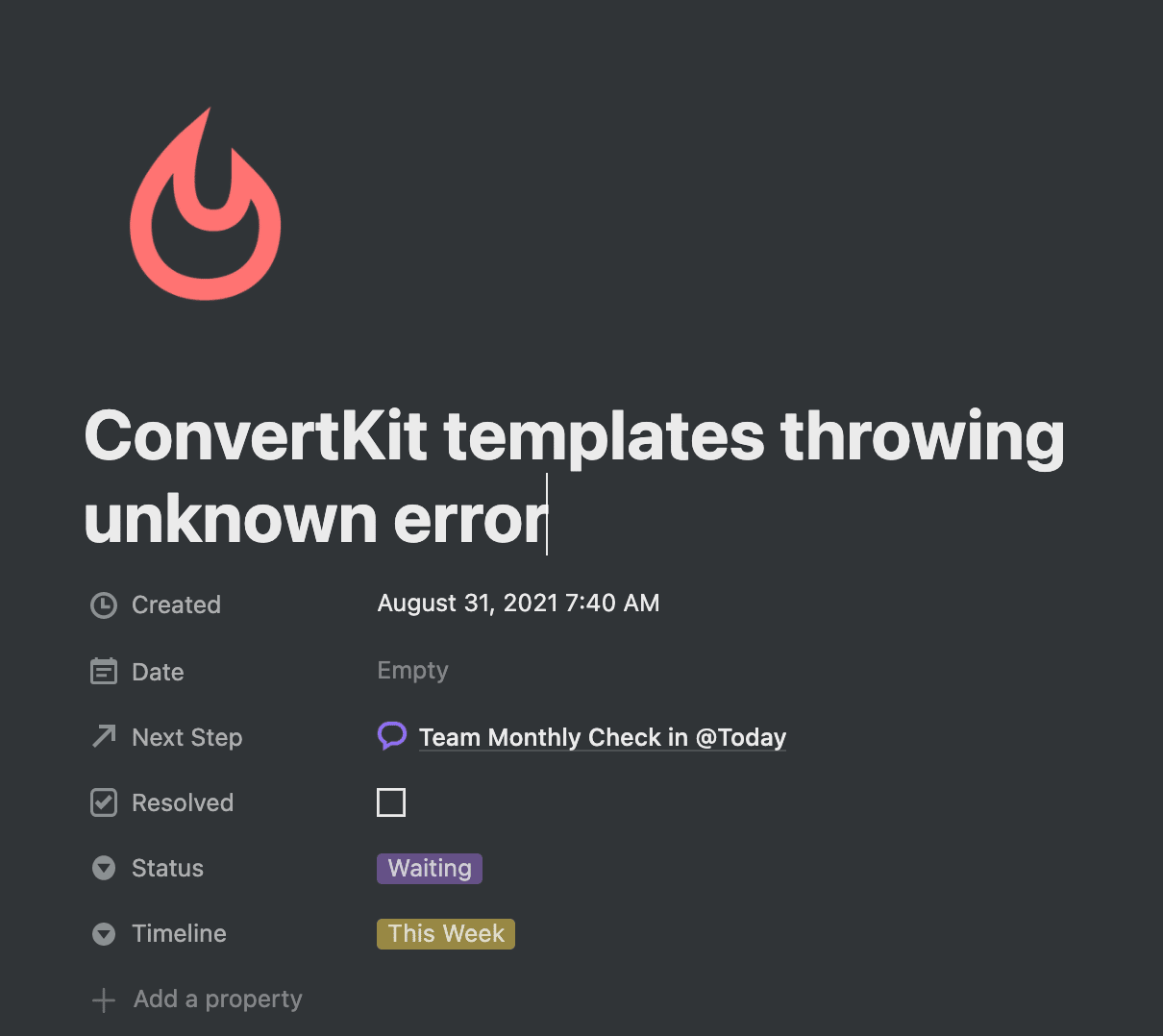 Issues is ideal for having a place to save team-level discussion items that aren't quite actionable yet.
It's been awesome for helping us improve asynchronous communication, batching discussion items and resolving them all in one go, rather than always needing to be pinged by email or Slack.
We only implemented it in June, and it's been a noticeably delightful improvement!
Want to try it out in your own space?
​Grab the Issues template here.​
​
I'll report back on the 4-day work week situation... 😂
​
---
📘 READING: A world without email by Cal Newport
🎓 STUDYING: Email Based Course by Will Steiner
Yes, I'm laughing out loud seeing those two together.
📺 WATCHING: Brand New Cherry Flavor 🕷• Ted Lasso 💕 • The Vow 🤯
📹 HOSTING: Notion Office Hours 🔥HOT SEAT edition is coming this fall! More details coming soon...
🛠 CREATING: V2 of Notion Mastery​
I've been sharing some sneak peeks of the new content on Twitter, and sharing/testing templates with friends and long-time students:
​
That's it for this week!
Have something Notion-related that you want me to cover in more detail?
​Hit reply and let me know.
Cheers!
​
Marie Poulin
​Notion Mastery​